Is My Old Fountain Pen Valuable?
By Jon Warren. Last updated: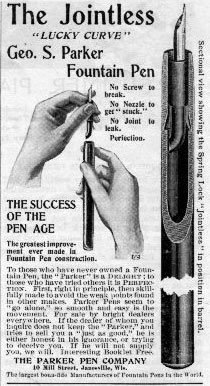 Wondering if your old fountain pens are valuable? The fountain pens of certain manufacturers command higher prices than the pens of others. Principally, this is the result of higher quality production of the elite companies versus the low value ones. Another factor affecting value is scarcity, of course. The supply of some rare pens by elite companies is so low that prices reflect the demand for them.

RULE #1: MONT BLANC is currently KING among pen collectors.

And remember, if you have a collection of fine old antique writing instruments, whether they be fountain pens, quill pens, ballpoint pens, or mechanical pencils, we are BUYERS! Be sure to read our buying list to see if you have what we currently want to buy: READ OUR BUY LIST

Here are some of the pen makers, and whether they are HIGH, MEDIUM, or LOW value in the pen collecting world:
HIGH VALUE PEN MAKERS
Mont Blanc, Parker, Sheaffer, Wahl-Eversharp, L.E. Waterman. Others include Conklin, Dunhill, Cartier, Tiffany, Le Bouef, Moore, Mabie Todd and Swan.
---
AVERAGE VALUE PEN MAKERS
Aiken-Lambert, Chilton, Diamond Metal, Diamond Point, Eclipse, Eberhard, Franklin, Gold Bond, Cross, Grieshaber, Ingersol, Liberty, National, Parkette, Security, Swallow, Salz Bros., Wahl-Oxford, Wasp, A.A. Waterman, Wirt
---
LOW VALUE PEN MAKERS
Arnold, Autopoint, Avon, Cavalier, Criterion, Eagle Pen Co., Esterbrook, Everlast, Eversharp, Faber, Fineline, Gem, Kreco, Majestic, Marxton, Morrison, Park Pen, Penman, Pioneer, Resevoir, Southern, Stafford, Traveler, Wallace, Waltham, Wearever, Windsor
---
There you have it. This list is by no means complete. But the HIGH VALUE companies listed above are certainly the main ones. We hope this article has been helpful.