How to Date your Fight'n Rooster Knives
You can get in a date range, and then get an exact date if the master blade is etched with a date, which it often is.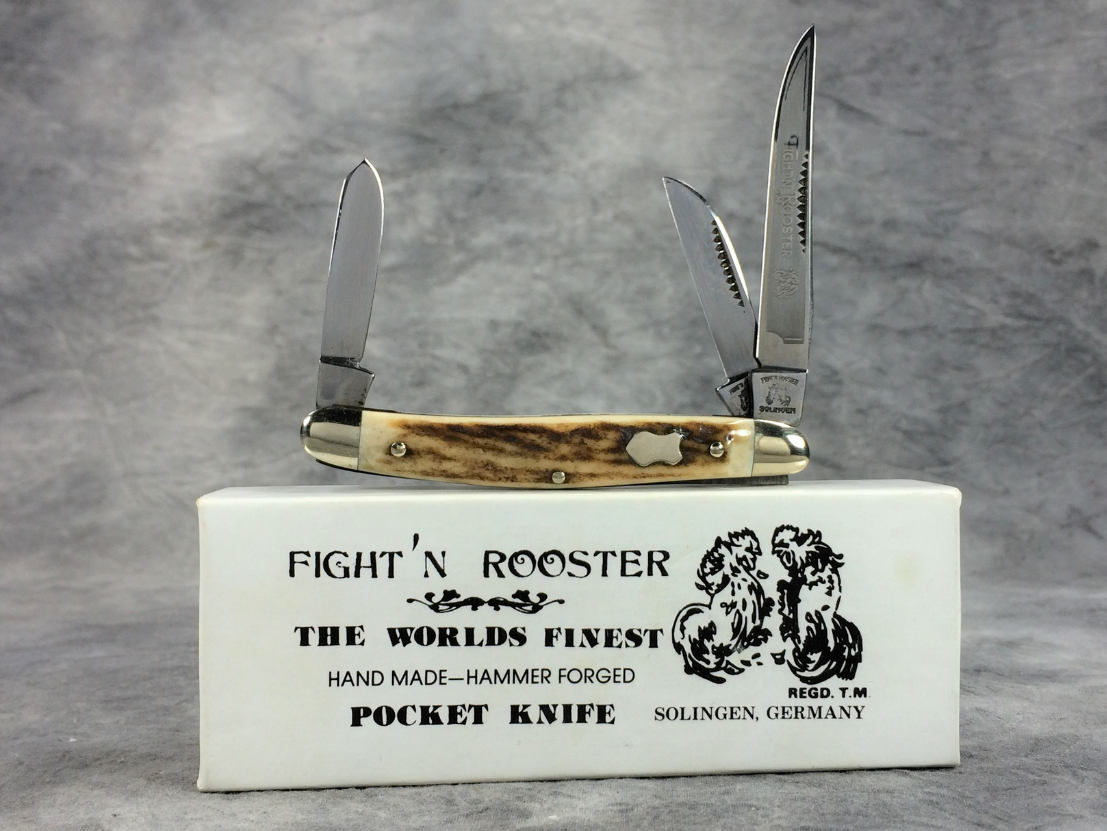 WE BUY FIGHT'N ROOSTER KNIVES. If you have a collection for sale, let us know. Click the CONTACT US button below to get started.
---
The Frank Buster Cutlery Company was formed in Lebanon, Tennessee in 1976 and the first run of knives stamped with the Fight'n Rooster brand were produced that year. These early pre-production knives have a front (or mark) side tang with two fighting roosters and the words SOLINGEN or GERMANY underneath. The very early knives did not have a company name tang because Frank had not yet had his company mold produced. Later, once the knife factory in Germany received his company tang stamp mold, the first knives with the reverse side tang stamped FRANK BUSTER CUTLERY CO. GERMANY were produced.

In 1982, the rear tang stamping was changed to FRANK BUSTER CELEBRATED CUTLERY / GERMANY and added the name FIGHT'N ROOSTER above the two roosters while keeping the roosters icon and SOLINGEN.

In 1994, the company name was changed to Frank Buster & Son and the reverse side tang was changed to FRANK BUSTER & SON CELEBRATED CUTLERY / GERMANY.

The company has been very active in making special knives for a large number of regional knife collecting clubs and in supplying the regular Fight'n Rooster line to collectors through dealers who participate in knife shows and mail order business. Most Fight'n Rooster knives have been made in traditional styles and a large variety of handle materials have been used. Especially significant have been those that have reintroduced colorful celluloid handles such as Christmas tree, Waterfall, and Candy Stripe. A number of limited issues have used old parts that have been found in European factories.

In consideration of the needs and desires of collectors, Buster has kept the quantity of his knives low and the quality high. Recognizing that statistics are important to collectors, the company has maintained records of the numbers of each knife produced and the year of production. Noteworthy among the company's other activities within the collector market has been encouragement and support of participation by women and youngsters in a hobby that has too often been considered one for men only.

Limited production of each release has been the company's policy since it's beginning. The majority of the near 2,000 different knife variations released have been made in quite limited numbers. Many have been limited to 100 or 150 knives and some have been produced in numbers up to 600, most are limited to 200 of each pattern and or handle. The majority of Fight'n Rooster knives have etching on the master blade. Although some are etched in black with the brand and logo, finding a Buster made knife with elaborate and multicolored blade etching is not unusual. With so many variations of the theme of accepted old patterns, a complete listing is not practical. The company has published two editions of a book listing Fight'n Rooster knives in the early 1980s, describing them and stating their collector values. A more recently published third book pictures and offers collector values of more than 1,500 Fight'n Rooster knives with countless color illustrations.

Fight'n Rooster Celebrated Cutlery has won 10 awards in international competition. These awards included Knife of the Year Award, Best Imported Knife of the Year and Best Investment Knife of the Year.

Frank Buster was inducted in to the Cutlery Hall of Fame in 1987.
VERY FIRST RUN - 1976
Before Frank Buster stamp was produced
Only the two roosters tang
Tang #1
2 Roosters
Solingen

###
After Frank got his stamped mold made and shipped off to German, the first batches with FRANK BUSTER CURLERY CO began to enter the market
FIRST RUN 1977 - 1982
Tang #1
FRANK BUSTER
CUTLERY
CO
GERMANY

Tang #2
(two roosters)
Solingen

###

1982-1994
Tang #1
FRANK BUSTER
CELEBRATED
CUTLERY
GERMANY

Tang #2
Fight'n Rooster
(two roosters)
Solingen

1994 to end of production
Tang #1
FRANK BUSTER & SON
CELEBRATED
CUTLERY
GERMANY

Tang #2
Fight'n Rooster
(two roosters)
Solingen